In addition to medical and surgical services offered by Lee Highway Animal Hospital, boarding facilities are also available for dogs and cats.
Boarding Reservation form here
LEE HIGHWAY BOARDING KENNELS

The Hound Hilton
An indoor/outdoor kennel equipped with automatic waterers. No matter what the weather may bring, your dog will be comfortable. Runs are 12 feet long inside and 18 feet long outside. We welcome your on site inspection.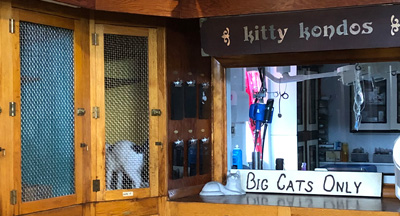 The Cat's Annex
To ensure your cat's comfort, the Cat's Annex is located in a separate facility from the Hound Hilton Hotel. Kitty kondos have a "perch" which allows your cat to feel safe and secluded. Noise pollution is held to a bare minimum. We welcome your on site inspection.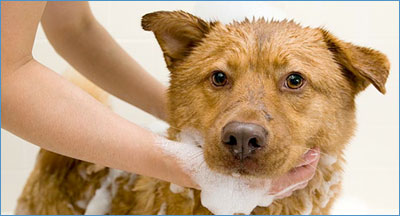 Grooming
Baths, brushing, toenail trims, and application of flea/tick prevention is available for all pets any weekday or Saturday morning. Cost is determined by services and size of the pet. Other grooming services, such as haircuts/shearing, are not available .
Visitation
Some pets become depressed while others thrive after a master's visit. It is best the doctor and client make professional, unbiased decisions regarding visitation on an individual basis.
BOARDING POLICIES

Please make reservations in advance to expedite check in and to facilitate staff readiness. Order baths, medical exams, vaccinations, etc. at this time. Upon check in, leave forwarding telephone number in event of an emergency.
Just as schools are not "soft" on human vaccinations, we require current inoculation for communicable diseases. These vaccinations include Rabies, DHLPP combination, and Bordetella. We can provide vaccines or accept hard copy documentation by a licensed veterinarian.
We are in charge of attending to your pet's health. Every precautionary measure will be initiated and instituted to keep same at high level. This includes, but is not be limited to, vaccines, parasite checks, prescribing medication, surgical intervention, and baths. If required and performed, you will be charged for services accordingly.
Should your pet require medication, special diet, etc. we will administer at no additional charge.
Baths are available any weekday and on Saturday morning.
Dogs must be kept on a least and cats kept in a "box" to ensure mutual safety during drop-off and pick-ups.
No tennis balls! They (tennis balls) clog our drains. If you like, bring a bed and two (2) toys maximum. Please do not bring articles which cannot be sacrificed (i.e. dogs chew up beds/blankets).
Charges vary according to the weight class of the dog. Dogs can be hand walked twice daily for an additional $2.00 charge.
Discharge is available between 5:00 to – 5:30 p.m. on Saturdays and Sundays and during normal business hours listed below. Adhere to these times and do not come to or telephone my residence. Thank you.
Note: Check out time is 2:00 p.m. This means animals discharged after 2:00 p.m. pay that day's fee.